Industrial Cleaning and Maintenance Department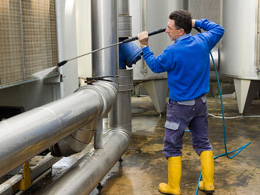 General Purpose Degreaser
RED Degreaser is a water-base, industrial-strength degreaser, very effective to remove grease and soils. It may be used neat in difficult jobs for better performance or diluted for ligther jobs. It can be used in machines, tools, flooring, tiles, etc.

Read more about RED DEGREASER.
Hand Cleaner
TOP Degreaser is a cleansing lotion for mechanics, technicians and anyone who is in contact with grease and soils. Deep cleans removing all grease residues, coal, lubricants, etc. and leave a pleasant sensation of freshness thanks to its ingredients, which include: Citrus essence, Vitamin E, extracts of Aloe Vera and Jojoba.

Read more about TOP DEGREASER.
Safety Dielectric Solvent
ECOSOLVE-E5 is a powerful degreasing solvent base that is useful for cleaning electrical panels, motors, and power tools that with energy. Our Solvent Dielectric Security has a dielectric strength of 25,000 volts, tested under ASTM D877 standard, with the added benefit of not being flammable.

Read more about ECOSOLVE E-5.